Sheri Felenstein Dempsey - Nanuet -1993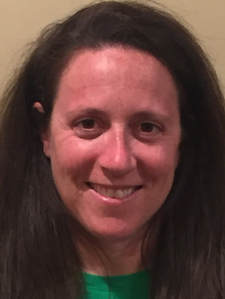 ​If you read The Journal-News sports pages from 1989 to 1993, you couldn't avoid her name; it was constantly in the headlines. "Felenstein leads Nanuet girls to first championship," "Sheri makes it a triple," "Nanuet's Felenstein captures 1,500," and on and on it went. She might have been the most photographed Nanuet athlete of the era. If you didn't know who Sheri Felenstein was, you just weren't paying attention.

Who was she? For starters, one of the most consistently high-performing cross country and track athletes to wear a Golden Knights uniform. As tough a competitor as you'll find anywhere. Versatile enough to excel at any track distance from the 100-meter sprint to the 3,000-meter endurance event, and athletic enough to even score League points in the high jump. And swift enough to run down just about anybody from behind with a fearsome finishing kick and 60-second quarter-miler's speed.

In her 12 seasons of competition over four years, Sheri qualified for the New York State championships 11 times. She was a League champion in all 12 seasons, won nine County titles, including three outdoor 1,500-meter crowns, and 10 Section 1 championships, including three straight in cross country. She's one of only four female runners to win the Rockland County cross country title three times. Perhaps most importantly, she was the lead harrier on the 1990 girls' cross country team, which won the State Intersectional Class C championship and finished second in the state Federation meet encompassing all classes. Sheri placed an outstanding ninth in the Intersectional and 12th in the Federation run. For her exploits on the hills and trails, she was selected to the Rockland County All-Century Cross Country Team in 1999.

Sheri set school records in the 1,500 meters and mile and as a leg on record-setting 4 x mile and 4 x 800 relays. Her 1,500-meter mark of 4:42.72 – equal to a 5:05 mile – earned her fifth place in the 1993 spring State meet and qualified her for Junior Nationals. That same year she finished third in the Eastern States mile. In spring dual meets she lost only one race over four years, even though she ran primarily shorter events in those meets for team-scoring purposes. On one occasion, during an indoor 4x400-meter relay carnival at RCC, she led off Nanuet's "A" team in first place and anchored its "B" team in the same race, almost catching the "A" team despite having just a couple minutes' rest.

But the longer events were unquestionably her forte. "Sheri had a very competitive nature and didn't like to lose," says Larry Beckerle, who coached her all 12 seasons. "She matured as a runner. She was good from the get-go as a freshman, then had some tough years with injuries and other things. But she stuck with it and her senior campaign was her best. She was the dominant distance runner in Section 1 her senior year."

Although she has a treasure trove full of individual laurels, Sheri equally values team accomplishments. One of them was qualifying for the State cross country meet in 1990 and "finally taking down the powerhouse of Bronxville," snapping the Broncos' nine-year Sectional winning streak. Another was defeating Pearl River in a 1990 dual meet, 23-32, to scissor the Pirates' 12-year, 86-meet victory skein.

Many runners have felt the sting of Sheri's furious finish. Local track fans got a glimpse of that closing speed in her freshman year, during the outdoor County meet 1,500, when she mounted a typical late-race surge to catch Pearl River's Erika Duthiers and outlean her in a photo-finish. There would be many more victims of the patented Felenstein kick in the three years to come.

Sheri was the headliner on a team of talented runners that included, among others, Kathy and Kristin Thelen, Maura and Bernadette Wholey, Jen Mills and Aime Goldberg. Aime has been a continual source of support for Sheri since their days as teammates and also during Sheri's coaching career. Sheri also is grateful for the unflagging support of her parents, Barry and Marilyn, and her brother, Craig. In addition to Beckerle, she was coached by Mark Mitchell and Dave Hanson.

Memorable experiences were plentiful during Sheri's Nanuet career, but among the more prominent ones are the trips to places like the Penn Relays in Philadelphia, the indoor Nationals at the Carrier Dome in Syracuse and the indoor Easterns at Harvard; grueling workouts at Clausland Mountain in Orangetown; the exhortations of Coach Mitchell on the ski-slope hill at Bear Mountain; and the appearance of a life-sized, stuffed Pink Panther mascot (courtesy of Coach Beckerle) at Nanuet's state-meet victory.

Sheri reaped a bumper crop of awards for her all-around excellence. She won not only The Journal-News' weekly Scholar-Athlete Award but was one of two Rockland student-athletes to earn the annual Journal-News scholarship in 1993. She was a proud recipient of the school-sponsored Jerry Leo Scholarship and Nanuet Black & Gold Scholarship, as well as the WRKL/Nanuet National Bank Athlete of the Season scholarship.

Sheri earned an athletic scholarship to Connecticut and competed in cross country and track for the Huskies for two years. She then set her sights on a career in education and has been an elementary school math teacher for 18 years – the first five years in the Bronx and the last 13 in the Nanuet school system, currently at the fifth-grade level. Sheri committed herself fully upon her return to the Nanuet schools. She was the girls' cross country coach at Nanuet for 15 years and winter and spring track coach for 12. She maintained a well-respected girls' program in all three sports and has coached multiple state champions, including two-time state cross country champ Megan Young, who has eclipsed Sheri's own school records. Other top athletes Sheri has guided include Kaitlyn Vasquez, a state hurdles champion; Marcus Lewis, a state long jump titleholder; and distance standout MaryKate O'Meara. Under Sheri's direction, Nanuet in 2012 won its first County girls' cross country championship since 1991, and the program's first Section 1 crown since 1994.

Sheri stepped down as coach in 2013 to devote more time to raising her young children. She continues to coordinate the popular Summer Track program for children in the Nanuet School District as she has done since 1998. The program now attracts about 150 kids per summer session.

Sheri, who's 42, lives in Pearl River with her husband of 10 years, Jeff Dempsey, the girls' track and cross country coach at Suffern High School, and their two children, Andrew, 9, and Caitlin, 6.
---