Drew Hirshfeld - Clarkstown North - 1984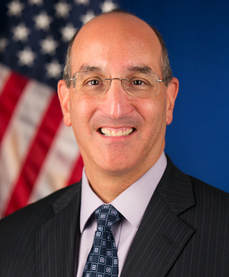 Drew Hirshfeld was supremely self-assured as an athlete, outwardly reserved but fueled with an inner passion. Drew's coach at Clarkstown North, Paul Duddy, once said of him, "His strongest characteristic is his tremendous confidence in himself." That self-belief, along with an unbridled work ethic and keen desire, pushed Drew to the limits of his physical capabilities – and sometimes beyond. Plagued by a stubborn Achilles condition in high school and disabling back injuries in college, Drew overcame his physical maladies to attain state and regional success and leave his mark as one of the greatest triple jumpers to hail from Rockland County.
The crowning moment in Drew's scholastic career came his senior indoor season, 1984, when he hop-step-and-jumped his way to a New York State championship with a distance of 47 feet 8.5 inches, which ranks No. 3 all-time in Rockland and was the second-longest jump in the country that season, according to Track & Field News. "That was the culmination," Drew remembers. "Coach Duddy and I made a plan, put everything into that meet. I competed in track for many years after high school, competed in college, and competed on my own for a while, but I wasn't as focused on any other meet as I was on that one."

In the All-County article in The Journal-News that year, Duddy did not stint on his praise. "Drew is a super kid to work with," he said. "He did a lot on his own and was an inspiration to the rest of the team. By devoting so much of his life to developing into a good jumper, he's made the others search inside to more accomplish more."

An encore gold-medal performance outdoors seemed entirely plausible but the flareup of Achilles pain severely crimped Drew's training regimen. Still, he managed to pop a 47-foot jump at the outdoor Intersectional championships for third place, a courageous effort that may have been equally as impressive as his indoor title. "Sports are like a microcosm of life; you learn life lessons from sports," reflects Drew, who to this day deals with Achilles scar tissue buildup that prevents him from running. "Overcoming that Achilles injury – you learn what you have to do, learn how to try to overcome obstacles."

The seeds of his State meet success were planted at the end of his sophomore year when, on his last jump of the season, he fouled on an attempt that was much farther than he had ever previously traveled. "I remember trying to walk off the distance to see how far it was," Drew recalls. "At that instant I thought, 'Hey, maybe I could be good at this,' and I went to Coach Duddy afterward and said, 'I really want to dedicate myself to this.' That instant, out of failure, drove me to success." As a visual reminder, he scrawled an upward arrow next to that meet on his season's schedule, and even hung the arrow on his wall. "That 'up' arrow was my motivation," says Drew, who recently found in his basement a scrapbook with that yellowing piece of paper and shared the story with his three children. "It meant I could've done better. For me that was a pivotal moment. It was the start of my competing seriously."
Drew credits Duddy for acknowledging his existing limitations in teaching the event but expressing his willingness to learn together. "I remember him saying, 'I don't know, but let's figure it out.'" With Duddy's collaboration, he learned about when to go hard in the weight room and when to taper, when to sprint hard and when to back off, visualizing peak performance with mental imagery, and other facets of training. "To this day, I take that as a great lesson for somebody who didn't have the answers but he was OK with not having the answers, and he found them. Talk about a lesson to teach a high school kid."

Drew's scholastic dossier included three Rockland County championships, three Section 9 Class A titles, and Rockland Athlete of the Season accolades both indoors and outdoors his senior year. He also qualified for and finished second in a 12-nation junior meet in Cologne, West Germany during the summer after senior year.

At the University of Vermont, Drew's inner resolve was again tested by a serious health condition. He redshirted one year to rest a back injury and decided to compete during his fifth-year redshirt campaign despite a major recurrence of the injury. At one point, he could not even support his own weight getting out of bed. Doctors had warned him he would never compete again, but he wanted to leave on his terms, not wondering "What if?" but rather, "How far?" Drew not only soldiered through the season, he excelled, capturing his third straight Eastern Intercollegiate Athletic Association (EIAA) outdoor triple jump crown and leading the Catamounts to the 1989 team title. He was named named Most Outstanding Performer of the Meet.

All told, Drew harvested gold four times at the EIAA, including one long-jump triumph. He still holds the school records in the triple jump indoors (48-10) and out (48-8.75), and in the long jump ranks No. 6 (23-1) outdoors and No. 7 indoors (22-7.25). He was recipient of the Sunderland Award for character, leadership and persistence. Upon Drew's 2004 induction into the UVM Hall of Fame, his veteran coach, Ed Kusiak, who retired shortly after the watershed team victory in '89, called Drew "one of the finest athletes I have ever coached. Drew was the heart and soul of the track and field program in the late 1980s" and, along with teammate Dan Bokan, "legitimized" the men's track program.

"Being a part of that team championship in 1989 was huge," Drew says. "The team was Division I but had been more like a serious club than a team. We really tried to come in and change the team, and make it much more dedicated and focused. We basically went from a team that never had a chance of placing in a meet of that size, to champion. Winning that meet brought tear's to our coach's eyes."

After graduating from Vermont with a degree in mechanical engineering, Drew worked for a year as a computer programmer before opting to attend law school. He earned his law degree from Western New England College in 1993. The following year, he landed a position with the U.S. Patent and Trademark Office in Alexandria, Va., starting as a patent examiner. Last July he was appointed Commissioner for Patents, the office's highest non-political position – "and I have no aspirations to be a political" appointee, he says with certainty. On his preparation for the position, Drew says: "Many people in the field are engineers and attorneys. Patents deal with inventions so you need to know the science behind it. Patents also deal with the law. I didn't plan on going to law school when I was an engineer, so I guess I switched in that regard, but it's still a field where my degree was important in both law and engineering."
​
​Aside from his professional success, Drew enjoys an active family life at home in Reston, Va., with his wife of nearly 26 years, Diana, and three daughters, Kacey, who turns 21 on May 24; Jenna, 18; and Lindsey, 14. While Drew, who is 51, did some high school track coaching during his time in law school, he got into coaching soccer when his children were old enough and is concluding a long tenure as a volunteer club coach this year. Diana continues to coach the sport, now at the high school JV level.
---