​Ricky Gross - Albertus Magnus - 1999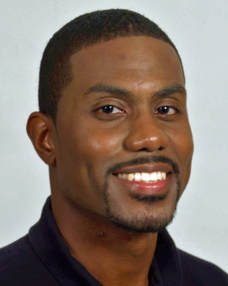 Although hurdling is a highly technical event that normally requires years of practice to hone one's technique, Ricky Gross mastered the 39-inch barriers quickly to become one of Rockland County's most accomplished athletes in the straightaway event. After leaving basketball behind and joining the track team as a junior, Ricky learned proper hurdling form from Coach Brenda King and took a liking to an event that showcased his exceptional speed, flexibility and jumping prowess. A summer of dedicated strength training after his junior year helped position him for a banner senior year.

Ricky won the 1999 New York State Class B title in the 110-meter high hurdles and claimed the Eastern States championship in 14.0 seconds, which ranks No. 3 on the all-time Rockland list. His clocking at Easterns qualified him for the U.S. Junior National championships in Denton, Texas. At Junior Nationals he ran 15.31 for the 42-inch college-height hurdles, which remains the second-fastest by a Rockland performer.

Displaying his versatility, that season he was ranked among the top five in Rockland County in five different events: 110 high hurdles (14.0), 100 meters (10.8), 200 meters (22.3), 400 meters (50.6) and 400-meter hurdles (58.2). He won County and Section 1 Class B crowns in the high hurdles, and won the Sectionals and finished second in the County at 200 meters, an event where he also placed sixth at States.

During the winter track season, Ricky capped a superb campaign with a second-place finish in the U.S. National Scholastic Indoor Championships in the 60-meter hurdles. He registered a time of 8.18 seconds, a Rockland County record at that time (now No. 2) and the fifth-fastest clocking in the state. In the 55-meter hurdles, Ricky finished third in the State championships, with all classes combined, placed fourth in the Eastern States, and posted a best time of 7.51, which was then No. 2 on the all-time Rockland list and currently stands No. 3. He was also the Section 1 Class B titleholder in the hurdles that season and Section 1 Class C gold medalist in the spring of 1998.

Ricky engaged in some memorable hurdling duels with archrival Ken Frank of North Rockland. Although Ricky maintained an edge in the head-to-head clashes, winning 6 of 9 indoors and 3 of 5 outdoors, the two timber-topping titans were separated by mere inches in virtually all of those matchups. Their most tightly contested battle came at the 1999 Red Raider Relays, when both were timed in 14.43 but Ricky got the nod with a longer lean from his 6-foot-1 frame compared to Frank's 5-foot-9 build. Some Rockland track observers labeled the Gross-Frank pairing one of the greatest rivalries in County track history.

"You never knew who would win, it was just about who was on that day," Ricky says. "He definitely helped me and I helped him. At that time, all the other standout hurdlers from Rockland had graduated. Ken and I really clicked after being roommates at the Empire State Games [in the summer]. I noticed how quick he would get that trail leg down, and after the Games I worked on being quicker over the top and it came together from there. I know we both wanted to break 14 seconds. We each came close a couple of times, so every time we got together we wanted to push each other to do it."

Ricky set school records in the 100, 200 and 55-, 60- and 110-meter hurdle events. At the conclusion of the 1999 spring campaign he was selected as the male recipient of the WRKL/Schultz Ford Athlete of the Season award. Reflecting on his time at Albertus, Ricky has only positive memories. "I enjoyed my teammates, our 4x100 team that challenged some of the fastest schools in the county, and of course my coaches, from the always positive Coach Kempton to the fiery Coach Brenda King. Each coach came along at the right time to propel me further towards being a continual competitor amongst the best."

Ricky is one of only three Albertus athletes to win an individual state championship in either track or cross country. The other two, Howie McNiff and Mike Colangelo, are also Rockland Track & Field Hall of Fame inductees.

After graduating from Albertus, Ricky earned a track scholarship from the University of Connecticut. Although hindered by frequent hamstring and hip injuries and a team chemistry that limited the full flowering of his potential, Ricky did enjoy some bright spots. He made second-team All-Big East in the 110 high hurdles in 2002, and ran on the Huskies' victorious 4x100-meter relay in the IC4A College division of the Penn Relays. He also shares the UConn indoor facility record in the 55-meter hurdles with Colin Aina of Rhode Island. Ricky was an integral contributor to the Huskies' 2002 Big East indoor and outdoor team championships. As a post-collegiate open athlete he earned a gold medal in the high hurdles at the Empire State Games, and garnered a silver medal while in college.

Ricky attained a bachelor's in sociology at UConn, and then embarked on a career as a personal trainer. He worked at New York Sports Club on Wall Street before moving south and settling in the Atlanta suburb of Alpharetta, where he operates his own personal-training business, RJG Fitness. Ricky, who is 35, and his wife of seven years, Nsharra, have two children: David Andrew, who turns 3 in June, and Elisha Kyle, born last October.

---