Jim Pollard
Spring Valley - 1963
​Ramapo - Coach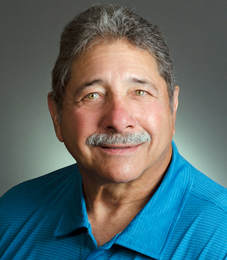 A versatile and impactful sprinter, jumper and relay man, Jim Pollard helped to define Spring Valley High School's tradition in those events. The 1963 graduate also played football and basketball as a Tiger and by his senior year, varsity letters, captain's responsibilities and championships were the norm.

Jim got things started with Rockland County and Section 9 triple jump titles as a freshman. He added a county long jump crown in his junior year and senior-year Section 9 gold medals in the long jump and 880-yard relay.

Spanning 100, 220 and 440 yards, and a whole lot of sand, by the time Jim finished high school, he had set six Rockland County records – including a 1:33.5 in the 880-yard relay at the 1963 county meet. He left his mark with four Rockland County and Section 9 individual and relay championships as well as a fourth place at the New York State championships with his relay mates.

Jim found a good fit at Springfield College in Massachusetts, known for its physical education and athletics programs. He earned seven letters in winter and spring track and, yes, he was voted captain his senior year.

Always a threat on the gridiron – as QB, running or punting the ball – Jim put three football letters on his jacket at Springfield. A key member of the undefeated 1966 squad, he averaged 49 yards per punt his sophomore year and was ranked in the Top 20 in the nation.

After graduating, Jim started his teaching career at Ramapo High School in 1968, just as its doors opened. His multi-sport expertise and Springfield heritage led him to long coaching careers in football and basketball and guiding the Gryphons' cross country and boys' and girls' track teams. He also helped to direct the Box James Memorial Track & Field Invitational for the school.

An avid volunteer for community athletics, Jim assumed a major role in coordinating teams in Hal Block Soccer, T-Ball, and the RBA basketball league.
​
Jim is now retired in Boynton, Beach, Florida with his wife, Rhonda. The Pollards have three grown children – Joy, Scott and Stefanie. Scott has followed in his father's footsteps as a former standout athlete at Ramapo HS and SUNY Oneonta, and now a high school teacher in Mount Vernon, N.Y. The Pollards also have four grandchildren – Joy's two sons and Scott's two daughters.
---